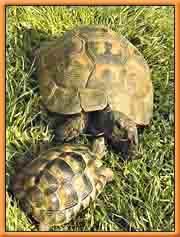 As you can see, tortoises are an important part of my life!
Here is a mixture of care information, images and goodies for fellow tortoise lovers
Tortoise Icons and wallpapers for your desktop too!
Plus
How to make your own tortoise screensaver....
Tortoise Puzzles...
Dancing Tortoises...

Browse the Tlady's Guide online now with edible weeds illustrations

Download my updated care booklet:

"A Guide to Rearing Mediterranean Tortoises"

View my online Tortoise Gallery

The Tlady's Babies!

Captive bred juvenile tortoises available

New!! The Tlady's Goodies!!

Download my Tortoise Cursors & Icons

All free at

Tortoise Care Books for further reading from Amazon

Combined Heat and UV Light bulbs

There are several makes of mercury vapour lamp combining heat and light in one bulb. The UV in these enables your tortoise to produce Vitamin D in its skin which mobilises calcium in the body. Makes include ZooMed Powersun, Exo-Terra Solar-Glo, MegaRay and Arcadia.