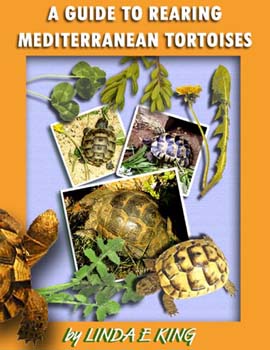 INTRODUCTION
Rearing a baby tortoise does require a degree of commitment to its welfare and will need some time and care and a little initial expense to create the right conditions.
To help give you a picture of what this entails I have gathered together my notes in
A Guide to Rearing Mediterranean Tortoises

The first part describes the tortoises' wild lifestyle.

The second describes ways of simulating this in captivity for babies.

The third describes the care of adult tortoises.
After browsing these pages, please feel free to download the ready to print version of this guide, a 28 page booklet.
All graphics and text in this site © L King 1998-2012